Introduce yourself!
Merhaba! My name is Seckin, I'm 40 years old, I have a 1-year old daughter called Yaz and 9-year old American Cocker Spaniel called Elvis. I'm a hotel manager and live in a two thousand year-old, small fishermen's town by the Aegean Sea called Foça (Phocaea). What intrigues me most about travel is simply that the world is a beautiful place and I want to see as much of it as possible and share the beauty of it with as many people as I can through my photographs.
How does photography influence your travel experiences?
Photography is an important part of my travels. I always have my camera with me - no matter where I am. Before I travel to any given destination, I always do a little research on the best places to photograph within the region. Sometimes I spend a minute to take a shot, sometimes I spend hours. Anything I can share with people interests me, be it landmarks, landscapes, sunsets, skies, streets, daily life or faces.
What sparked your interest to travel throughout Burma? How did you plan for it?
A few years ago when I was reading a travel magazine, I saw the temple photos of Bagan and the U Bein Bridge of Amarapura. Those photos were literally breathtaking, so I made the decision there and then that I had to go see this place for myself. Planning was relatively simple as I just checked my agenda, contacted a tour operator and joined the tour.
Did you travel by yourself or with others? How did you navigate throughout the country?
It was and organized group tour; a total of 19 people. The original plan was that my wife Özlem was also going to come with me, but she was 5 months pregnant at the time and her doctor didn't let her fly. So I unfortunately had to leave her behind. Regarding how I navigated throughout the country, I used all sorts of vehicles for transportation: planes, buses, boats, tuk-tuks, tricycles, and even horses!
Did you have any expectations or preconceived notions about the culture you would be exposed to prior to your arrival? How did it differ from what the cultures actually were?
I've been to Laos, Cambodia and Thailand before and I was expecting something similar. However, I cannot compare Burma with any other country I've been to. Visiting felt like setting foot on an untouched planet. Now it opened its door to tourists, I suggest that you go there before the thousands of tourists increasing every year spoil it.
I was amazed with the happiness, friendliness and politeness of every Burmese I met. And although most people I encountered were poor, they were always ready to help with a big smiling face. It still amazes me how happy the locals were. My culinary experiences there are another story. To be honest Burmese food wasn't the best I've ever tasted. It was very different to my taste, though I have to admit that I am quite picky anyway. There was a lot of fish and (mostly fried) rice. However, every ingredient was always fresh.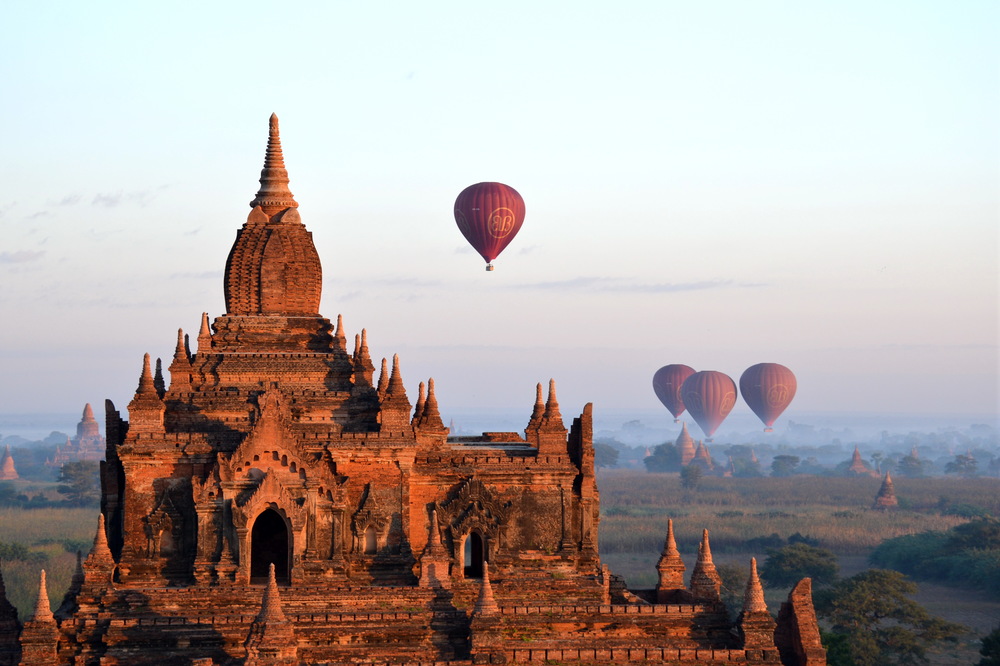 What was the process like travelling into the country? Were there significant differences in culture/architecture/landscape from city to city?
I started my trip from Yangon, the old capital, which I found quite vibrant and colourful. I then I went on to Inle Lake. It was completely different from the capital. Simple wooden/bamboo houses built on stilts, famous fishermen of the lake on their tiny boats rowing them with their legs, floating gardens, many temples around the lake. It was the place I actually experienced the local life properly. My next destination was Mandalay. You could feel the mysticism of the Buddhism everywhere, as Mandalay is considered to be its religious capital. Finally, I took a boat from Mandalay to Bagan. Bagan... Oh my God... It is truly another world. Strolling through more than two thousand temples, watching the sunset on top of them and finally ballooning over them at sunrise. It was truly magical.
Of all the images you captured during your trip, which would you say is your favourite? Why?
I took this photo (see image below) during our balloon ride over the temples in Bagan at sunrise. It was one of the best experiences of my life. The views were truly beautiful. This is my favourite photo, because I won a quite big photo competition in Turkey in January among fifty five thousand submitted photos. The prizes were a cruise trip to Norwegian fjords, a week's all-inclusive holiday in Turkey flying to the destination with a private jet and a week's all-inclusive holiday in Cyprus! I already framed it and put it on my wall at work.
What recommendations can you share for future travellers?
Talk to people! They are one of the happiest I came across.
See: U Bein Bridge at sunset in Amarapura, Mandalay

Do: Balloon ride over the temples in Bagan at sunrise

Eat: Leq-p'eq, green tea leaves mixed with sesame seeds, fried peas, dried shrimp, fried garlic and peanuts.
Travel has a tendency to look very glamorous, though that is not always the case. What types of challenges did you face, and how did you overcome them?
I actually found Burma quite easy to travel around. As long as you plan before you go to your next destination, nothing is a problem. As I mentioned before Burmese people were always trying to do their best in case you needed any help.
What are some of your most memorable moments looking back?
My most memorable moment was when I was strolling through the temples and came across a school trip. The temple was full of kids. One of the teachers approached me and told me that kids wanted to take a photo with me. Turns out it was the first time they had seen a man with a beard. Another was when I was at one of the airports which was quite basic and didn't have an announcement system or any screen to follow your flight time. Instead, each person was given a sticker to put on your t-shirt. When it was time to fly, a guy would walk around with a sign with a bell with your flight number on it, check your sticker and tell you if it was your flight. I absolutely loved it.

What's next for you?
Visiting the Norwegian fjords with my family, going to Iceland with a friend of mine, then exploring Easter Island on my own. It actually kind of upsets me that I won't be able to see everywhere I want. The world is beautiful, and we don't have enough time to explore everywhere.
To see more of Seckin's incredible travel photography, be sure to visit seckinyilmaz.smugmug.com and follow him @Seckinyilmaz on Instagram.
Images Courtesy of Seckin Yilmaz