As part of our Frequent Flyer series, we post follow up stories from previously spotlighted travelers. Ahmed is a 29 year old Interior Designer and avid traveler from Cairo whose photography hobby first began with the use of his iPhone. His affinity for traveling "more raw, undiscovered, and less touristy" locations is what initially sparked his interest in exploring Iran, which he previously shared his experiences about. Now he's back with the company of his friend and frequent travel companion Michael to share about their adventures through Jordan.
Hi Ahmed! What have you been up to since you were last feature on Iran?
Ahmed Saeed (AS): Michael and I have since traveled around Jordan and driven all around the ring road in Iceland last summer, which was one of the best and most unique travel experiences I've ever had. Following those trips, I then went to Amsterdam, stayed a few weeks in London, finally ending last year with a trip around Luxor and Aswan located in southern Egypt before spending Christmas in Andalusia, Spain. When I wasn't traveling, I was in Egypt where I live and work.
Michael, please introduce yourself!
Michael Hlavaty (MH): I'm Michal, 37, graphic designer living in London, born in Bratislava. My love for photography developed a decade ago in a time when I was living in Prague feeling happy and excited about life. It wasn't something serious at first but it was clear for me it would remain a lifetime hobby. Like any other person I had small local trips with friends and family but later felt a strong need to see more; I felt richer after every trip and I craved for more. Around beautiful Europe it was always nice and easy but the breaking point was when I went to Morocco. That trip opened a huge door and I've since seen almost every important & picturesque country in the Middle East.
How did you meet? Was Jordan the first time you traveled together?
AS: We knew about each other through Instagram and a mutual friend, and met briefly in Morocco in 2013. Michael was planning his second trip to Iran at that time and I wanted to tag along, so a few months later I applied for the visa and this was the first time we actually traveled together.
What sparked your interest to visit Jordan?
MH: I have to say I was the driving force for the trip, as I have always had a strong hunger to explore as much of The Middle East as possible. To be honest, Jordan does not have significant differences from Egypt (where Ahmed is from and lives), but I was able to find enough places to explore to make it worth his while!
How long was the trip? What cities did you visit?
AS: 9 days. We started in Amman, continued to north to Umm Qays, headed south to pass through Madaba, Petra and Wadi Rum, before finally exploring Aqaba.
MH: With such packed itinerary our best option to navigate through each city was by renting a car and hiring a good driver from a local agency. Once this was done, our journey was all set.
How did photography influence your travel experience?
MH: For me photography was a major part of the trip. We stopped frequently and made every effort to use our driver's local knowledge of places and skills to get where we would not have known to go ourselves. As a local, our driver also knew how to navigate different situations which proved to be extremely helpful.

AS: It took me some time to get in full photography mode, especially on the first two days, but by the time we were in Petra I was all over the place taking photos. Who wouldn't be provoked by such beauty? And of course obsessively stopping on the side of the road to capture the breathtaking views driving between the mountains – almost to the point where I'm sure it became somewhat annoying.
What were some of your experiences as a visitor?
AS: I personally didn't feel like a tourist while there as its very close and similar culture wise to where I come from regarding daily habits, kindness and generosity when interacting with guests. I also speak the language (Arabic), which made it easier for us to move around and find what we wanted. I can't say it's exactly like Egypt of course, but it was entertaining for me to be able to reflect on the similarities.
MH: I spent the whole trip with Jordanians, Egyptians or Bedouins, I couldn't ask for more! We tried to avoid busy touristy places and focused more on local foods (I remember I experienced food heaven in Aqaba - I went crazy for the fresh lemonade with mint, fresh guava and watermelon juice!), customs, traditions, places and of course, people.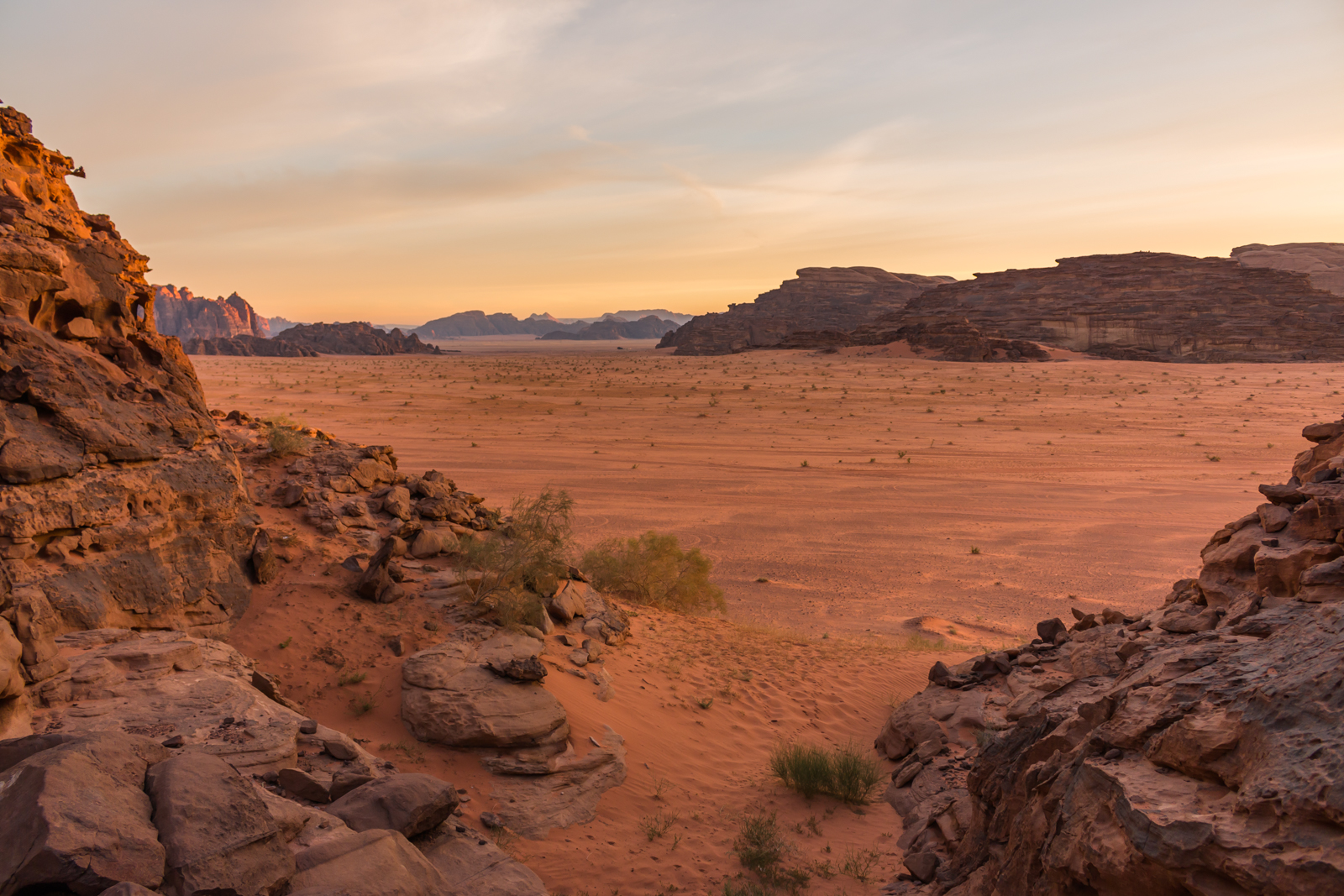 What recommendations can you provide for future travelers interested in exploring Jordan?
MH: Spend enough time in Petra to explore all parts and make genuine connections with the Bedouins. Stay even longer in Wadi Rum desert in tents or even under the sky, go into Wadi Mujib to swim, climb, and get completely soaked in the huge canyon on hot day and feel like Indiana Jones at the waterfall located there. Sunset in Aqaba is just magical and view from Umm Qays over Palestine/Israel & Syria is truly beautiful.
AS: You could also go canyoning against the water current in Wadi Mujib, which was the highlight of the trip for me. Lying on our backs slowly with the current between those beautiful colored Siq-like canyons on the way back from the waterfall, and the sun rays coming through to light the fresh water was one of the most beautiful color palettes I've ever seen. Floating on the Dead Sea was also an enchanting experience - I never imagined I'd enjoy it as much as I did! Also don't miss out on a mud bath. Petra, of course! I was so exhausted after all that walking and climbing, but it was completely worth it!
How would you describe the people of Jordan?
AS: The Jordanians we met were usually friendly, even more so when they found out I was Egyptian. We always had a lot to chat and I found them to be a lot like Egyptians.
MH: I wish I could speak Arabic, as this plays a major part in how people approach you or accept you during a short stay or visit. We had a nice time with Bedouins in Petra, tribe living in Wadi Rum and I remember friendly and cheerful boys working alone in a bakery just below Al Karak castle.
What surprised you the most about your experience?
AS: How physical and diverse the trip was. From hiking to swimming against currents, we had it all. It was exhausting and we were dead tired at the end of each day, but always very rewarding as we got to see more than we signed up for. Regarding the landscapes, the scenery throughout the country would consistently change. We drove on roads between lush green hills and Roman ruins in the north, followed by dry and rocky sites along the Dead Sea and Petra, ending with beaches and refreshing weather in Aqaba.
Travel has a tendency to look very glamourous, though that is not always the case. What types of challenges did you face, and how did you overcome them?
MH: You are right! The moment you think all is perfect is when you also realize that your driver has a light case of Schizophrenia, or at least that was my diagnosis. There was nothing we could do upon realizing this, so we just focused on our trip and tried to remain calm when we experienced problematic situations. However, it was not all bad; this unique problem brought us a fancy dinner in Amman from the owner of the driving company on our last night. Though I've now vowed to drive myself on each trip since!
What's next for you both?
MH: Oman, Indonesia, maybe the whole world?! (I definitely plan to visit Iran again)
AS: Yes, that's certainly the plan for now, I'm also planning a trip around a few countries in Eastern Europe.
To see more of Ahmed and Michael's travels and beautiful photography, be sure to visit them @Ahmed_Saeed and @Barbatulus on Instagram.
Images Courtesy of Michael Hlavaty and Ahmed Saeed