Introduce yourself!
My name is Devesh Uba and I am a photography enthusiast from India but currently living in Lagos, Nigeria. I've been here now for about a year and a half and originally came on a professional assignment working for a digital marketing agency. I have since founded my own agency, Naija Go Social, which is Nigeria's leading Website Development and Social Media Agency.
Did you have any expectations of Lagos prior to your move? Did those expectations match the reality of the city?
Before moving here, I spent a lot of time researching Lagos and Nigeria, only to be discouraged when I did not find any positive stories or pictures. However, when I finally arrived and started to spend more time around the city, I realized there are several positive things about the culture that most media conveniently ignores. There is art almost everywhere… on Danfos, on streets, on shop signboards, on school walls and so on. The people of Lagos 'hustle' and do it with a smile. The colors of the markets are so vibrant and the 'never say die' spirit of people here is just so inspiring. The Nigerian love for food, football and music is just infectious.
What is your approach to photography? Do you generally strike up a conversation with the people you photograph or simply "snap it" and capture the moment?
Lagos is very challenging when it comes to people and street photography. People here often think I am press and I might be reporting something about them, so the request of taking pictures is always rejected. I have gotten into trouble several times, when people start asking for hundreds of dollars for clicking a random building or even a tree. Maybe my being a foreigner was the issue.
I then started going with a local driver or friend and the number of unpleasant instances went down considerably. I won't say I won over people's trust but I think the gap was substantially reduced. The first few people I photographed in Lagos would say "Snap it, Oga!" when I was looking at them through my camera's viewfinder; the name just stuck, so I just ran with it. Though almost all of my pictures in Nigeria have been taken from a moving car, I have never been the kind of photographer who is interested in being disconnected from his subjects. As a result, I try to balance this with as many intimate portraits as possible.
What are 3 of your favorite places to explore and photograph throughout Nigeria?
Lagos is where I work and make most of my pictures, so Lagos is definitely my first choice. I love the energy and the vibrancy of Lagos and I believe it is a great place for street-photography. For my second choice, I would have to go with Osogbo. Besides the Unesco World Heritage site, Osogbo has a big community of artists, which is quite fascinating to explore and experience. My third favorite place to explore would have to be Enugu, located in Eastern Nigeria. Enugu's history is captivating and its people are extremely friendly, I also love the landscape around the city.
What have been some of your experiences as a street photographer in Lagos?
One of my worst memories as a photographer in Lagos was on the streets of Ajegunle when I was there to capture street art. The roads were pretty bad, so our car got stuck on a bump. Out of nowhere, 'area boys' surrounded us and started banging the car's glass hysterically. Somehow my driver was able to calm them down by telling them his brother lives on the same street and runs a saloon in the local market. We were finally able to get some help from some kind people who stopped after all of the chaos ended. I can't lie though, those were the most uncomfortable 20-25 minutes of my life.
Despite this negative experience, I have had many great and positive experiences here in Lagos that make up for the bad ones. One of my best photography memories was when I went to Dreamland in Lekki to photograph an event organized on Children's Day. I went with a local friend who works with a Nigerian bank, and it turned out to be such a special day. Not only did I get some great pictures, but the joy of being with these kids and snapping them was incredibly special. Most of the best photos I captured that day were of children in different settings smiling and celebrating.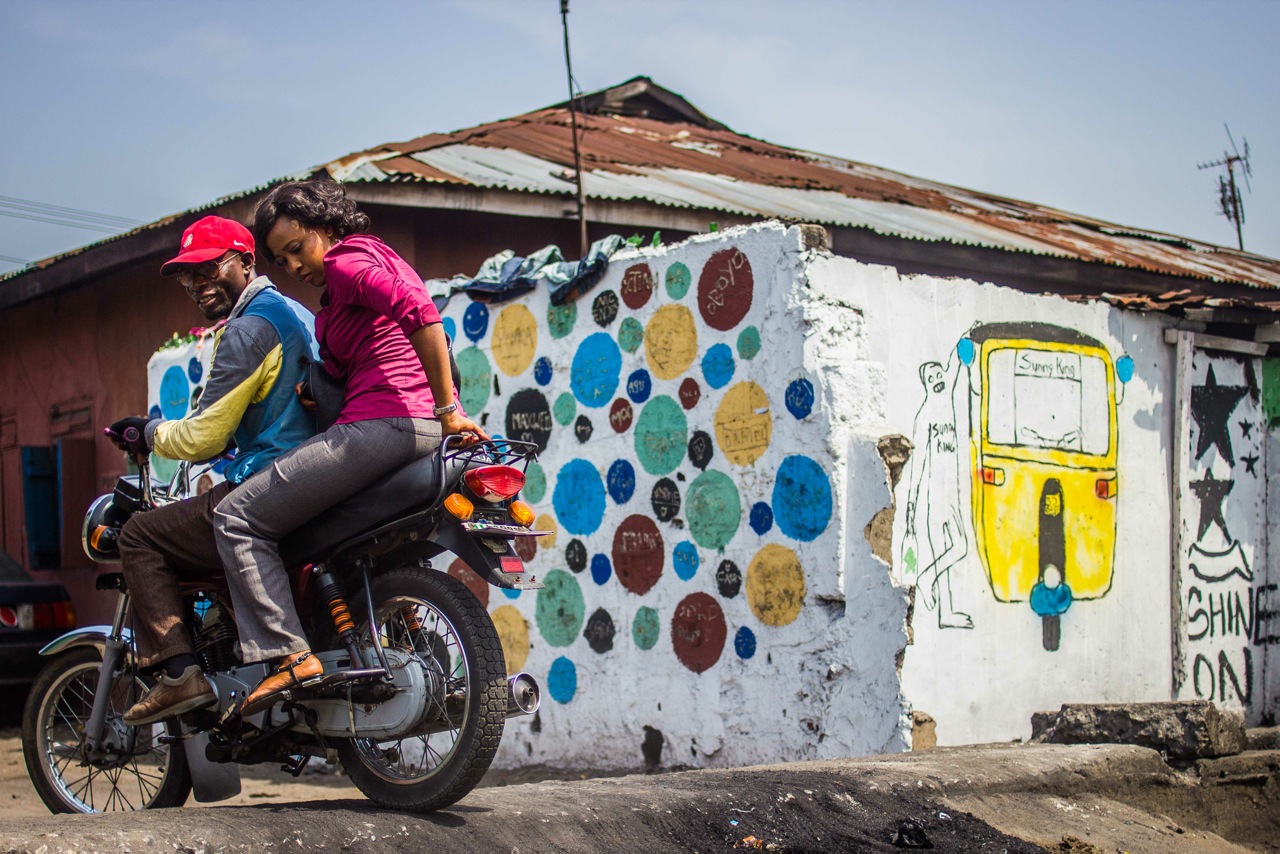 Of all of the photos you've taken throughout Nigeria, what would you say is your favorite?
This is a tough one to choose. However, I was recently able to capture a picture at the National Arts Theatre in Lagos of Nigerian school children which I really love. I was busy snapping and the kids kept on giving me funny smiles and expressions, which was absolute fun! When I got done I had two security guards of National Arts Theatre behind me saying it isn't allowed to take pictures there without permission. I had a tough time explaining and getting out of that situation, but I am happy I took the picture.
What's next for you?
To be honest I am not such a planned person, I am more of the 'go with the flow' kind. Today I think, my blog 'Snap It Oga' will keep on showcasing positive images from Nigeria but I would also like to explore other creative avenues while here. I am also an independent film-maker so I would love to get into short-films in Lagos while also trying my hand at other genres of photography in Nigeria. My start-up Naija Go Social is about original and authentic content creation and I do have some big plans to scale it up in the coming times.
To see more of Devesh's incredible photography, be sure to visit www.snapitoga.com or his Flickr account and follow him @Snapitoga on Instagram and twitter.
Images Courtesy of Devesh Uba