Introduce yourself!
I'm Christy, a girl who loves to tell stories, see new places and experience things first hand. I live in jeans and comfy sweaters and have a thing for wool socks. I'm also a sucker for a good beverage and some local street food. While I've lived in various places around Europe and Asia, I've recently relocated to Mexico and am learning to don more respectable footwear and differentiate between chilies while learning Spanish and soaking up the colors and cultures of this beautiful country. Shanghai will always be my home-away-from-home, as it's where I found my "expat" footing and learned how to live abroad. In the last decade I haven't managed to stay away for longer than ten months and while I hope to be fully present wherever I am, there's a small piece of me that will always remain in China.
What brought you to Shanghai? Was it a major cultural adjustment for you?
I landed in Shanghai back in 2004 as part of a study-abroad group through my university. We came as a whole pack, professor included, so I'd say we had a pretty 'soft landing' in some ways; we weren't left to figure everything out on our own and we had someone to walk us through what we were experiencing. But it was my first experience living overseas and without a doubt, I had a lot of adjustments to make on all levels. I loved it though—the chaos, the sights, sounds and even smells. Noodles for breakfast is my kind of paradise and as someone who's drawn to vibrancy, the city offered an unlimited supply of it in the way of laundry hung from telephone lines and fresh produce stacked up along the sidewalk.
What is your favorite approach to photography? Do you generally strike up a conversation with your subjects or just capture the moment?
I used to click away, snapping photos in a haphazard way, hoping to sneak in a quick snapshot or capture things without care. Now I'm a lot more intentional about the photos I take: paying attention to the frame, trying to capture the nuance of the moment, asking for permission (at least with a smile and a nod of acknowledgement to the camera) of the subjects I capture. I'm drawn to bold colors and candid portraits. But I'm always on the lookout for the quirky or the mundane and try to tease both out of what might be an otherwise 'typical' shot.
How would you define Shanghai's culture? What do you love most about it?
Shanghai is the most amazing blend of ancient and modern, local and foreign, concrete and greenery. The city has a culture all of it's own and a history that is unique from the rest of the country, having had one of the most cosmopolitan pasts, full of foreigners and empires. To give you an example of the dichotomy, it boasts an up-and-coming fashion scene that is said to eventually rival that of Paris or New York while still holding a 'marriage market' in the heart of the city every weekend. Old lanes with ancient residents are tucked in between iconic modern skyscrapers; its multiple eras rolled up in a few city blocks.
What surprised you most about living in Shanghai?
I think when you live in a city, things become standard and the daily grind can overshadow the quirkiness of a place. But every time I leave for an extended period, I'm amazed at what I miss—the bicycle vendors selling fresh cut bouquets or the food carts who roll out their woks and grills after dark to cook up some of the city's best dishes. These are things that I tend to take for granted once I leave.
Descriptions & recommendations of the best places for travelers:
Best foods to try; great local cafes/restaurants
For something fancy: M on the Bund

-

For fine dining with a view, you have no shortage of options, but M on the Bund has been an all-time favorite by locals and tourists for as long as it have been around.
For something mid-range: Xibo - This eatery is an upscale spin on Xinjiang food. The atmosphere is sophisticated yet cozy and the food is outstanding.
For budget eats: Dongbei Four Seasons Dumplings - For some hearty, no-frills, delicious grub, this is the place. While you MUST order a plate of dumplings the menu is full of other classic Chinese fare, all at incredibly cheap prices.
Activities to do & places to visit
Take a cooking class: it's one thing to eat the local fare in a place, it's another thing entirely to learn how to make it. And don't worry, you don't have to be a culinary wizard to enjoy one of these classes—even my Dad had a good time (and his idea of cooking is pouring a bowl of cereal in the morning.)

Visit the marriage market: if you're in town on a Sunday, head down to People's Park for an old-school match.com experience.

Have a drink at the JW Marriott: while most people head over to Pudong and up the Jingmao Tower or the World Financial Center for the views, the JW Marriott offers its own unique perspective—overlooking People's Park and the central part of the city. It's a great place to grab a pre-dinner drink.

If you have a few days in the city, consider heading to the tailor market to get a jacket, suit or dress made. It's a fun souvenir and an experience in and of itself. But bargain hard and be insistent on getting the fitting just right.
Neighborhoods, galleries, and museums to explore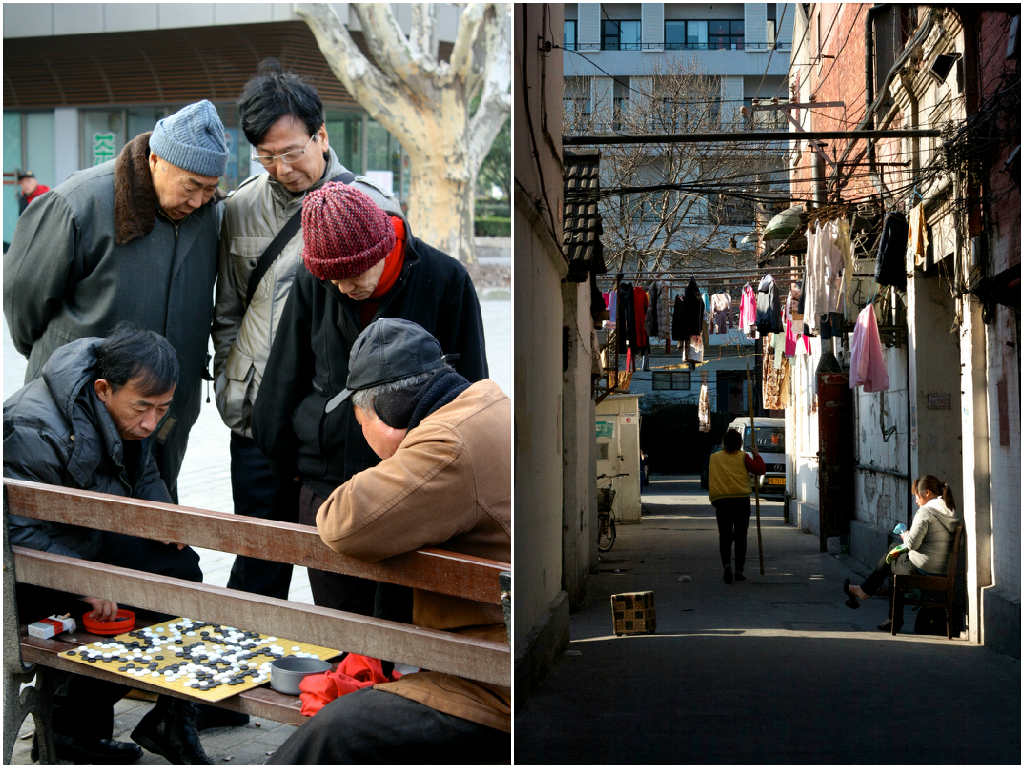 Of all the photos you took while living in Shanghai, which is your favorite?
My favorite shots are almost always of sidewalks and lanes, because to me, this is where life takes place. One day, I turned the corner from my apartment and saw a guy painting his fence while balancing on a chair stacked on top of a chair. This is Chinese creativity in action. I would have stopped when I didn't have a ladder; this guy just went and found an additional chair. I never ceased to be amazed.
What advice would you give to others who may be interested in moving to another country, but are unsure of what to do and where to start?
If you have the opportunity to move overseas, even if it's only for a short stint, take it. It is such an eye-opening experience. And while you might fall in love with foreign lands and their cultures, ways and citizens, you might also gain a stronger love for your homeland and an appreciation for the things you take for granted in your daily life. My two top tips for moving abroad are to start studying a bit of the language before you go (even if you only master a handful of phrases, it helps so much!) and to network. Ask friends for referrals, let people know where you're going and beseech them for any connections they might have there. Even if it's a friend of a cousin of a neighbor, having someone on the ground to call up not only provides a valuable resource but it helps you feel a little more anchored when you arrive.
What is your favorite or funniest memory living in Shanghai?
When you live in a city that is a magnet for travelers, I find that you often avoid the tourist spots. But when a friend moved to town, we took a weekend to go be tourists—guidebook and all. It was so much fun to see the city with fresh eyes and dive back into the chaos that I felt like I was seeing the city all over again for the first time, despite having been there for off and on for a decade. It's a reminder I'll carry with me: to always keep a sense of wonder for the place you call home, even if it's so familiar—and especially when it's so familiar—that it's become a backdrop to your story instead of the story itself.
What's next for you?
I doubt I'll be away from Shanghai for too long, but for now, I'm settling in to my new home and learning to make the transition from rice to tortillas; I'm also practicing the art of balancing a chair on top of a chair in case I ever need to paint my fence.
To see more of Christy's work and travel adventures, be sure to visit www.laneletters.com and follow her @Lane_letters on Instagram.
Images Courtesy of Christy Campbell
Did this story help you?
If you enjoyed this piece and would like more content like this, please consider a donation to Spirited Pursuit - we'd be so grateful!