Introduce yourself!
My name is Zainab, and I am a major lover of life, photography and travel. I presently reside in Canada, where I recently graduated University and work at a Childcare Centre. My Nigerian roots constantly shape parts of my life, but I enjoy learning about all types of cultures. Although I love photography, I'm nowhere near a professional photographer with a professional camera. I'm just an amateur photographer that loves to capture images. To me, photographs have an immutable power, immortalizing people, places and moments; which is what I aim to do through my photography.
What interests you most about traveling?
Travel intrigues me because it is simply an opportunity to experience one planet through the eyes of many. My love of travel stemmed from my mother's love of travel. We often tease her that she has the restless gene, because she always wants to be somewhere, and someplace different. She began to travel later on in her life because during her youth, she worked incredibly hard to build her career. But from a young age, she dreamed of walking the streets of Paris, or simply cruising on a ship on the Mediterranean Sea. She had big travel dreams, and to her, the best way she knew how to travel was with her children. Because of this, I also began to have big travel dreams of my own. Year after year, my mother will pick where she wanted to go and we would go with her; following her to live her dreams. It is always enriching to see the happiness she feels once she gets to explore and experience somewhere different. This is the same overwhelming happiness that overcomes me when I travel and get to meet different people and experience their unique culture.
What brought you to Thailand? Did you travel by yourself or with others?
I'm like everyone else, I have noted countries on the world map I'd like to visit, and Thailand was one of them. I watched a lot of videos people made about their trip to Thailand on YouTube and Vimeo, and the Thai culture that bled from each video I watched simply fascinated me. So, one day, while my friend, Ojo and I were at the gym, we got a fernweh to travel, and Thailand organically came up as a country we would both like to visit.
Which cities did you visit? What were some of your experiences?
Chiang Mai
Before my friend Ojo and I embarked on our trip to Thailand, we made rigorous plans and mapped out exactly what we wanted to do each day. It was incredibly anal, but this approach turned out to be the best decision for us. We were aware there are two different kinds of experiences of Thailand, the deeply cultural and the deeply touristic, so we decided being deeply immersed in local culture was far more ideal. After the grueling 21-hour plane ride from Canada to Thailand, we finally landed in Bangkok where we then took a local flight to the Chiang Mai; the northern city where we would spend majority of our three-week trip.
Our experience in Chiang Mai was positively indescribable; from the people, weather and foods. Everything was smooth sailing for us right from the airport (we knew we'd reached nirvana after seeing monks in their orange cloths walking amongst us to get their luggage at baggage claim). Though our bewildered expressions initially attracted some strange looks, a few locals taught us that all that we needed to know during our visit was "Sawatdeeka" (Hello) and "Kab Kun Ka" (Thank you). Even if they sometimes could not speak English to us, the people of Chiang Mai were always willing to help. We stayed at Baan Rai Lanna, a rice farm that was completely rustic and divine. Located about 1.5 hours away from the city, we called it our safe haven as it had only 6 bungalows and three people on staff. It was the perfect getaway from civilization and the modern world. There were also a host of things to see and do throughout the city. We hiked, white water rafted, bamboo rafted, rode elephants, played with baby tigers, explored local cafés, visited several temples, explored the Wattana art gallery, hiked the Doi Inthanon mountain, as well as watched elephants paint, shoot darts and play soccer. Though every experience in Chiang Mai was memorable, our most treasured moments were when we got to be locals. Visiting fresh food markets, haggling the prices of souvenirs on the streets, conversing with both our hosts & people of Chiang Mai, as well as hopping on the open beds of red truck taxis (Songthaews) left a lasting impression on me.
Bangkok
After Chiang Mai, we embarked on a 9-hour bus ride to Bangkok where we would spend our last few days in Thailand. Bangkok reminded us of every typical metropolitan city, which became instantly overwhelming. After learning how to use the BTS Skytrain, the city began to grow on us. We visited several temples, learned to cook several Thai dishes, shopped at the night markets, and explored the MOCA art museum. There is so much to see and do in Bangkok that by the end of our trip, we still felt like we hadn't seen enough.
What surprised you the most about your experience?
I think what surprised me the most was how quickly I fell in love with the country, especially the city of Chiang Mai. My favorite place in the world is Beirut, Lebanon and Chiang Mai came very close to beating that! It shocked me how much heart the people of Chiang Mai had. The heart they have is so immense, and so beautiful. My friend and I were constantly drowned with kindness and humility. It was extremely reinvigorating to us because in a world with so much conflict, we were glad to see people not be phased by the constant worrying and paranoia that conflict often creates. The people of Chiang Mai simply reveled in their own little world, and to them simply waking up each day was enough to celebrate.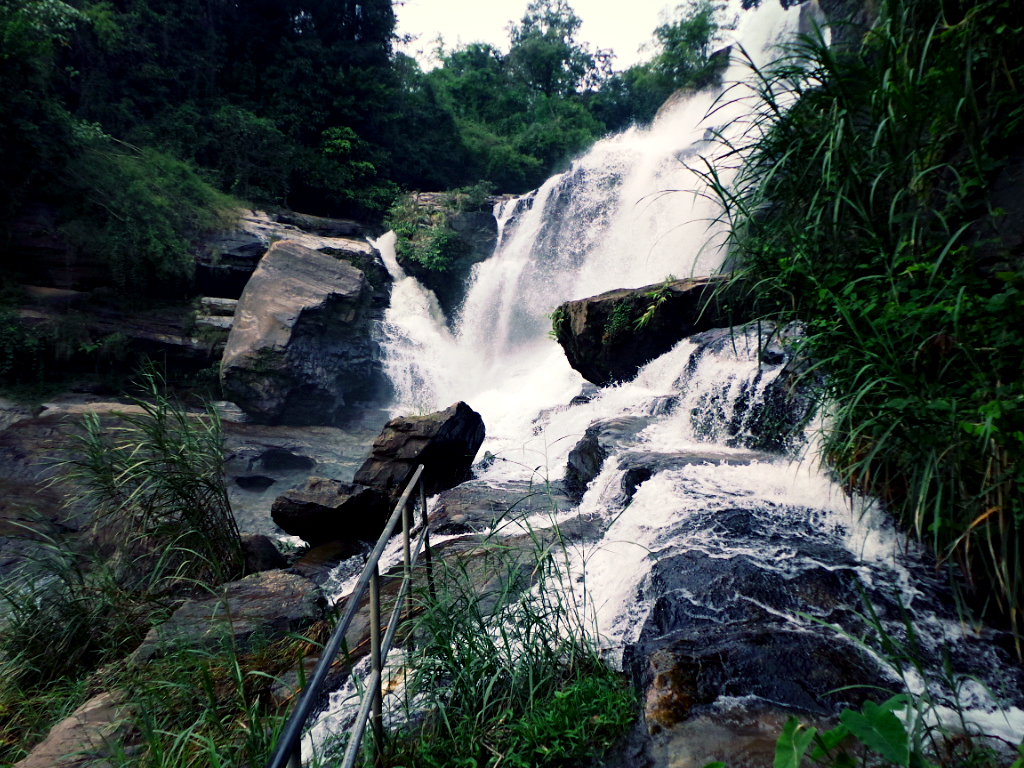 What would you like people to know about your experience within the country that is little known?
Thai people are very witty, and each time I exclaimed or marveled at scenery or an experience in the presence of a local by saying "Oh my God", he or she would often retort with "Oh my Buddha".
What recommendations can you share for future travelers in having a similar experience?
I'd definitely suggest that you first determine what type of traveler you are beforehand. This will help you determine what cities to visit, as Thailand has a lot of cities rich with its culture and vibrant with tourism. If you plan to visit Chiang Mai and Bangkok like we did, I'd strongly suggest:
Get a traditional Thai massage.

Baan Rai Lanna - the perfect tranquil place to stay in Chiang Mai.

A visit to all the temples in both Bangkok and Chiang Mai.

Try to do non-touristy things like visiting strawberry and rice farms.

Eat! Try foods like Green Papaya Salad, Pad Thai, Kaeng Mussamun, Tom Yum Goong, Mango Sticky Rice, and of course the street foods.

Take a Thai cooking class. Silom Thai in Bangkok was a great cooking school.
What is your funniest memory?
I mentioned before that we stayed at Baan Rai Lanna in Chiang Mai because of its simple, rustic feel (our first real experience at an eco-lodge). We were still very jetlagged during our first night so I fell asleep early while Ojo stayed up to write. All of a sudden I was jolted awake by shriek from Ojo, terrified by what looked like a lizard on the wall. After frantically telling our hosts what happened they laughed hysterically, leaving me very confused. Apple, one of our hosts, then informed me that what we saw was a common Gomero wall gecko and that they move too quickly for them to get rid of them. I had no choice but to walk back to the room after realizing nothing could be done. We later spotted the gecko again, noted its small size and had a good laugh at ourselves. It was then we knew that we weren't in Canada anymore, and that this was the kind of experience we signed up for. Instead of panicking, we simply named our new roommate Camo, because we thought it camouflaged pretty well to the colour of the wall.
What advice do you have for individuals that want to start traveling internationally, but don't know how to start?
To be honest, I can sit here and give advice that all you need to travel is to put a tack on a map and simply go for it, but we all know that is not the case. We as individuals are constantly plagued by the realities of cost, time, relationships and spontaneity. All these factors are things I think restrict so many people, even myself, from travelling. So, my advice is to simply go one step at a time. Start by travelling locally within your country of residence. Once you've done that, international travels won't be a big deal anymore. Start by having a destination in mind, then save up. Ask your boss for vacation time, let your friends and family know you will be travelling, and then go for it. One thing's for sure though, once you travel internationally, you never want to stop, because the possibilities will seem endless.
What's next for you?
At the moment, I am trying to build a successful career and traveling is definitely in that plan. I am most myself when I get to experience and learn from different cultures, and my dream is to visit at least one country in every continent before my toes point up.
For more from Zainab, be sure to visit her website www.wingd.ca and follow her @wingd.ca on Instagram.
Images Courtesy of Zainab N.M. and Ojo Agi