Introduce yourself!
I 'm Akosua Afriyie-Kumi, a fashion and accessories designer from Ghana. Having graduated with a BA honours Fashion Degree from Kingston University in London, I embarked on a journey to Ghana to start my own fashion business before I turned 30! Like so many 20-somethings, it was a very intense period of my life. I was in a transition, and I felt this deep need to figure out who I was and where I was going. The defining moment came when I thought, "Now is the time to make or break, to put myself out there and see what I am made of." I knew I wanted to go out on my own and pull together all my passion and talents to create something unique that would be fulfilling both personally and professionally.
I established A A K S after seeing a gap in the market for beautifully handcrafted bags. In Ghana, I grew up around basket bags, I used to give them as gifts and also use them for storage. I remember having a lot of 'I wish it was more like this, I wish it was more like that' moments… I wanted it softer, almost foldable and also more colourful with blends of colours which were tasteful and modern with a beautiful finish and detail. Building on this idea I started researching into fibres, I knew raffia was soft and could be used to weave and create a different experience for me in the bag I wished to have. More importantly its benefits such as it being an organic, natural, renewable and biodegradable fibre held an inherent ethical value which was attractive to me and very much in line with the vision and ethos I had for my brand.
How would you describe the culture in Bolgatanga, Ghana?
Bolgatanga is a largely unexplored, dry land in the Northern region of Ghana with a large population living without electricity or any source of water. It is extremely hot with day to day temperatures reaching up to 45 degrees in the dry season, which is 8 months of the year. Due the inclement weather, it can be tough for farming, which is a main source of food and income. Women, men and children sit under trees to get some fresh air, weaving to supplement their income. The closest major town averages 10 - 20 miles away depending on location. The main source of transport is walking, riding a motorcycle or a bicycle to get around from community to community. It is fairly a green town! Locals normally use the baskets they weave as everyday bags or storage and the bigger communities come together and weave for export to neighbouring towns in Ghana as well as worldwide.
How has the local culture impacted your approach to the designs of AAKS handbags?
The A A K S brand is a true reflection of my surroundings, be it the people, colours, energy and dynamism of Ghana and Africa in general. There is so much inspiration and ideas that I get through observation, photography and travelling around Ghana and the continent which influences my design aesthetic. Creating something handcrafted has always been the goal of my brand. Words such as empowerment, passion and lasting is what I feel these group of artisanal weavers bring to each creation and we hope our customers get that sense by love and ownership put into each bag. Weaving also gives the women and men a much needed income to encourage and empower them to become independent through making a good and steady work. It has helped me to see a different light to my designs and I have learnt to slow down and appreciate beauty in everything around me.
Please describe the process used to dye and weave each bag.
The weaving process starts by twisting the raw raffia after it has been harvested. This is a step that forms an inherent part of the bag making process. After twisting about 10,000 strands or more we gather raffia and prepare our dye bath which is of hot boiling water. Natural dyes are dropped into the water and sometimes even natural tree barks are used in the bath to create a good colour intensity. It takes approximately 10 - 15minutes to boil, then the dyed raffia is dried. To create the base shape of each bag, weavers take the strands between their fingertips and skillfully weave by doubling up the raffia until the bags are finished. I then take the bags back to my studio, a 12 hour drive away from Bolgatanga, where I add finishing touches such as linings, buckles and leather handles to finalise the process.
What are your fair trade practices? Do you work with a specific group or organisation?
We pride ourselves in creating unique and well-crafted bags, backed by mindful production for social impact. We can be categorized as ethical or a sustainable brand in rears to fair trade because we use organically sourced raw materials, raffia which is biodegradable and renewable and we pay our weavers a fair wage. It's an inherent quality and very important part of my business ethos, with hopes of contributing greatly towards the struggling textile industry in Ghana.
What are some of the challenges you are faced with due to your current production process?
Building a fully African-made luxury brand presents tremendous challenges which my team and I are overcoming every day. The main challenge for us is logistics and costs of importing and exporting in and out of Africa. We also struggle with infrastructure, simple things like telephone connectivity and electricity disconnection pose a large and constant of threat to our daily work. Despite all this, the fact is the best Raffia and Raffia Weavers are here, and despite the challenges of operating in remote regions in Africa this advantage gives a superior quality.
Are there any common misconceptions about working in the region you would like to clarify?
There is a misconception about Northern region of Ghana in general whereby people think it's a sacred land or not a great place to visit, live, or work due to the unfavourable weather conditions. I passionately believe that with dedication to the craft and a keen attention to detail 'Made in Ghana' or 'Made in Bolgatanga' can compete with the best in the world of design. Ghana can do luxury, modern and on trend without losing its African soul or aesthetic.
What advice would you give to others interested in pursuing a similar path to empower remote artisan communities within their communities?
I would advise any aspiring designers out there to observe their location, find a niche or something unique that hasn't been done before, or, even if it's been done before have a new twist on it , take the opportunity in their stride and follow your passion. It is really easy to get wrapped up in the planning of your business but sometimes you have to know what you want and just go for it. Boldness has genius, power and magic in it. Begin now!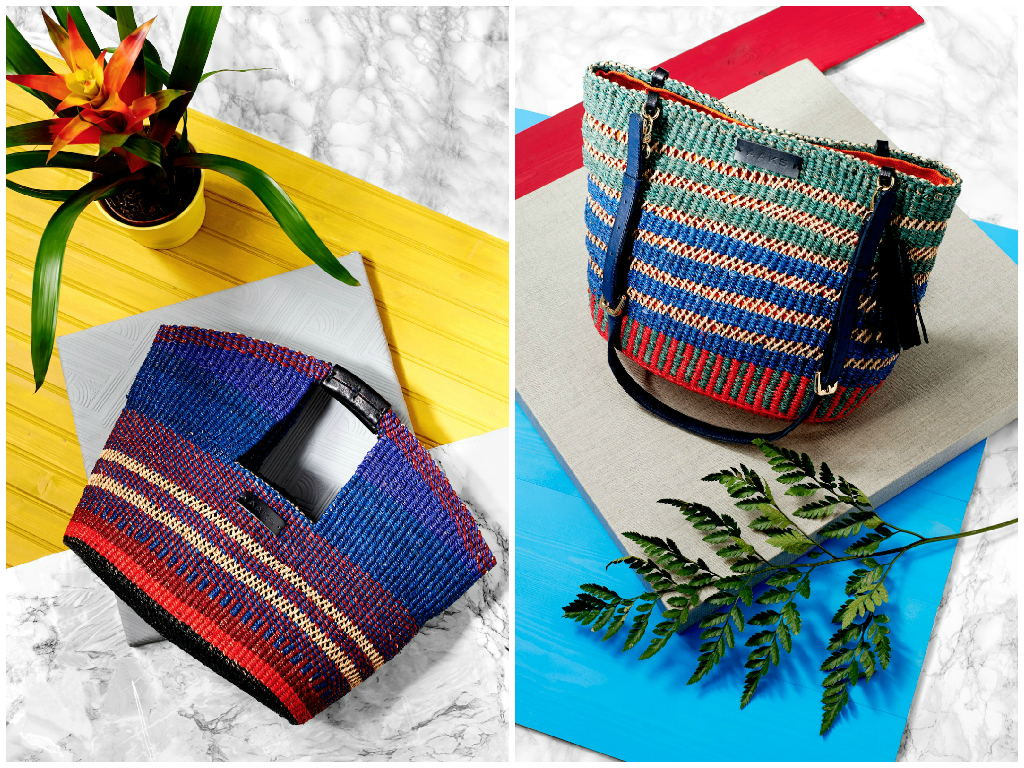 What's next for you?
I would love to move into clothes and print design as it's been a great passion of mine. Nonetheless, I am very keen to explore the accessories and home interior area in fashion too. Bag design is still a new venture for me as I only started my brand this year and already been featured on Vogue Italia as an emerging designer from Africa which has boosted my confidence in what I do. I am enjoying it so far and will be doing bags for some time before branching out into anything else.
To see and read more on Akosua and A A K S be sure to visit www.AAKSonlline.com and follow her journey at @a.a.k.s. on Instagram
Images Courtesy of Akosua Afriyie-Kumi