Introduce yourself!
My Name is Sarah and I currently live in Sydney, Australia. Two years ago I decided to turn my photography passion from a hobby to a part time profession to balance out my corporate day-job and haven't looked back. What I love most about taking photos is sharing the stories behind them. Through Instagram, I've found a community that appreciates both the images and stories I tell. I've been sharing my travels like diary entries through Instagram for two years now and connected with people in the countries I have traveled to.
The first country I visited was Lebanon, my country of birth that I left at the age of 3. It was a life changing experience for me because not only was I discovering an amazing country full of history, contrasts and culture, I was also reconnecting with my ancestry. I felt a connection to the land and people that I have never felt as an adult and migrant in Australia. It cemented my feeling of being a global citizen and validated my lack of attachment to one place over another. The Prophet Muhammad (S.A.W) once likened this whole world to a traveler taking rest in the shade of a tree for a moment then moving on.
What interests you most about traveling?
You know that feeling when the plane leaves the tarmac and you become airborne? The universe of possibilities combined with the feeling of weightlessness, endless possibilities, and leaving all your routine behind? The wanderlust - I'm addicted to it. Traveling humbles me as a human being, and as a Muslim; reminding me constantly to be in awe of God's majesty and mercy though his creation. The concept of happiness and how it differs wherever you travel fascinates me as well. In the West, we can have so much of "everything" but we are so unhappy inside as none of it is of any real value.
What sparked your interest to visit Morocco specifically?
Oh gosh, where do I start?! The colors, the diverse landscapes, the food, the architecture! The Berber culture and the rich Islamic history. What cemented Morocco as my next travel destination was hearing about the first every university, the Al-Qarawiyyin in Fez, founded by a woman named Fatima al-Fihri in 859 who inherited a large amount of money from her father and wanted to build it alongside with a mosque for her community. I was touched by her story and made the intention in my heart that that year I would go there in her honor.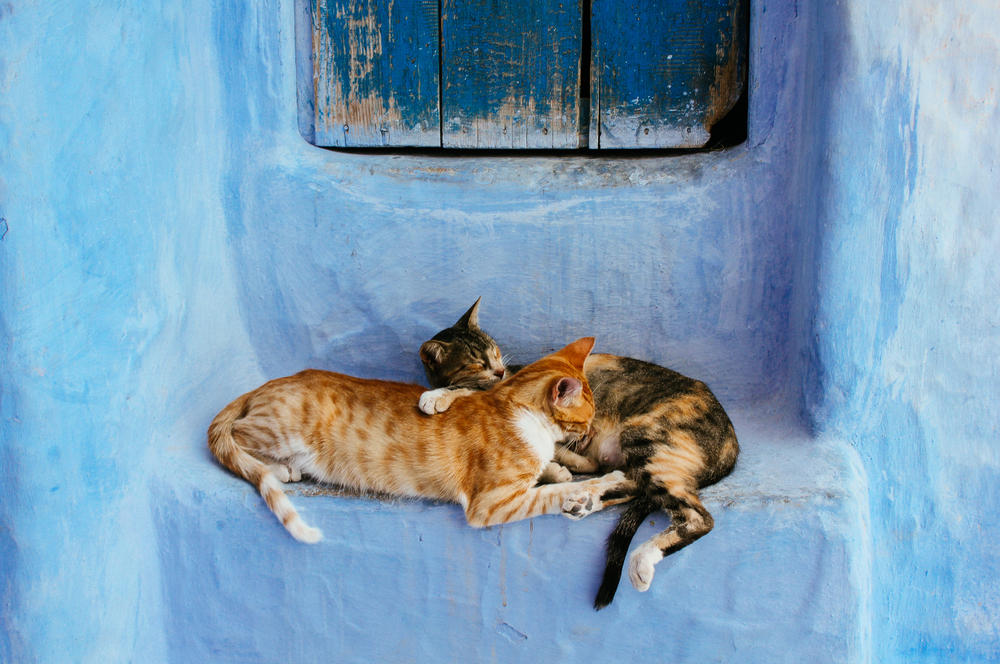 What were some of your experiences?
Morocco is one of those places that honestly far surpasses your expectations of it. In Marrakech I felt like I was back in time wandering through laneways and making way for donkeys and men selling fruit on carts. Fez had an incredibly spiritual feel to it, I loved seeing people making their way to the mosques after hearing the call to prayer. Our driver surprised us during a long road trip with a stop over to the Ouzoud cascades (110m, 3 tiered waterfalls) where a local took us all the way down to view the amazing waterfalls from below. We realized we were the only tourists there once we arrived, and saw so many families camping, picnicking and swimming as it was the summer holidays. As for Chefchaouen - it felt like a combination of Jaipur, Santorini and a southern Spanish Village all in one. I was overwhelmed by all the shades of blue. It was definitely worth our extra two day stopover.
What surprised you the most about your experience?
Everyone was free to express themselves in any way they wished: men still opted for the djellaba over the high street clothing (Zara/H&M) made in their own backyard, women were free to express their varying degrees of religious and cultural dress, and the public sphere was as much a space for women as it was for men. I also loved how even in larger cities where there are all the modern conveniences, people would make their way to daily growers markets and pick out their chickens for the butcher to slaughter and buy their produce directly off the farmers who came from neighboring villages. I loved the resilience to pre-packaged and international brands and keeping their economy stimulated in their marketplace.
What would you like people to know about your experience within the country that is little known?
Morocco is a kingdom; you will see photos of the king everywhere. In Jemaa El Fna, there is a whole street with wall-to-wall images of him and messages of love. I asked a local that brought her children there about it and she said everyone loved him because he looked after all Moroccans, and took care of all their cities. I then compared that to my experiences living in a western democratically elected government that has disappointed its people by not acting in the interests of the very citizens that voted them in. I hope that people will come to such a country with an open mind, and moreso an open heart. Moroccans are some of the nicest people you'll ever come across in your travels.
What recommendations can you share for future travelers?
Stay in Riads over hotels whenever possible! These beautiful converted traditional guest houses won't disappoint, and are a great retreat to come back to after the intensity of wandering around the city all day.

The local food is a must! You can't go wrong with a tagine and couscous dish! In Marrakech, head out to the Jemaa El Fna (main square) and dine at one of the many restaurants with communal tables amongst locals.

Moroccans are very welcoming and friendly; a simple greeting of 'salam' will go a long way. Don't hesitate to ask for directions if you are lost, most often I found myself being guided hand in hand to the place by a local.

Practice your heckling skills at the markets; Marrakech was my favorite city for shopping.

Go to Chefchaouen, even if for one night…trust me on this one ;)
What is your favorite memory of the trip?
Getting lost in the narrow streets of Chefchaouen and finding myself in a Berber wedding procession. I joined the group of women carrying gifts, while the men were playing traditional instruments and little girls dancing. Another great memory was taking in all the sights, sounds and smells of the thousands in Jemaa El Fna from the rooftop of café Glacier, then witnessing everything suddenly go to complete silence in respect of the call to isha prayer that echoed across the square. I can listen to the call anywhere in the world and it will still give me Goosebumps.
I was once asleep on a long drive between places when our driver woke me up to see miles and miles of eucalyptus trees on both sides of the street. The combination of the sight and smell of iconic Australia, which was a hemisphere away, and Coldplay's "Strawberry Swing" playing on the radio was so overwhelming that all I could do was cry it out and count my blessings.
What advice do you have for individuals that want to start traveling internationally, but don't know how to start?
Taking advice about places to visit is a great way to start, but as it is you who is doing the traveling, seek out what appeals to you most - whether it be international cities, natural landscapes, coastal areas, etc. Honestly, the first thing I'd say is don't put it off if it's something you've been wanting to do; life is so short as it is. I really believe in the saying, 'travelling is the only thing you buy that will make you richer'. Don't hold out on places because you're single etc, I've been to Paris 3 times and the city didn't love me any less because I wasn't with a partner. Sweep yourself off your feet! I promise you you're worth it. Take advantage of the opportunities that traveling alone can open to you that you may not encounter with a partner.
If you're a hesitant solo traveler I recommend going with a tour group. My first Europe trip was with Topdeck tours where I made some lovely friends and was able to take time out in cities to do my own thing, all with the comfort of accommodation and transport taken care of! I also recommend budget hotel options rather than spending the bulk of your expenses on accommodation. You will rarely be in your hotel room, so who really cares about the square meters? I am able to travel annually on a relatively modest income because I am happy to cut costs on unnecessary luxuries.
What's next for you?
Oh gosh, South America, Central Asia, Saudi Arabia, Iceland, an American road trip, and Tunisia are next on the list - but I'm not sure of the order yet.
To see more of Sarah's travels and photography, be sure to follow her @sarah_and_the_city on Instagram.
Images Courtesy of Sarah Chaabo